Ferdinand Magellan, also called Hernando, was a soldier, sailor, and navigator of Portuguese origin and noble lineage. It was an important character for the Monarchy, as he was named commander in chief of the Navy to the discovery Especería and Knight of the Order of Santiago.
Born in 1480 in northern Portugal, Ferdinand Magellan was one of six children of Rui Magellan and Ines Vaz Moutinho. In 1517, he made his own family with Beatriz Barbosa, with whom he had two sons Rodrigo and Carlos, who died in infancy.
It was in service to King Charles I that this great traveler discovered the now famous Strait of Magellan. Thus, he became the first European to sail from the Atlantic Ocean to the Pacific Ocean. However, before this great journey that would consolidate him as one of the most important travelers of history, he made several other trips in his youth.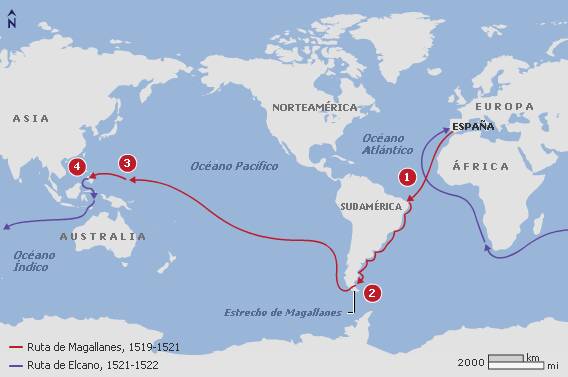 With only 25 years in 1505, Magellan enlisted in the Navy of India to service the first viceroy. It is said that he spent eight years participating in various battles and military actions in this lands, and that he was even wounded. In 1509 he participated in the first expedition to Malacca, where he had to flee because the fleet he was traveling with was the victim of a conspiracy. His actions in this expedition won him many honors and a military promotion. A couple of years later, he would participate in the conquest of the place.
After participating in other trips, he decided to study nautical charts in Lisbon, next to a famous cosmographer named Rui Faleiro. Thanks to these studies it was that he began to haunt the idea of crossing from the Pacific to the Atlantic Ocean. It was until 1519, that the expedition from Seville parted, with the intention of finding a sea passage to the East Indies. This route had already been searched by Christopher Columbus.
Various setbacks made Magellan doubt on his chances of success. After a series of rebellions during the winter, some conspirators plotted a mutiny. However, they did not succeed and organizers were killed. Then, diseases such as scurvy, hunger, and thirst, attacked the whole crew.
Despite all the setbacks, in March 6th, 1521, they found an island where they could rest, gather food, and even receive numerous indigenous gifts. It was until then that Magellan understood that he had reached the Far East, honoring Christopher Columbus project with began years ago.