North of Thailand, in Chiang Rai province, it is an idyllic building peculiar in color and design. Wat Rong Khun is a contemporary unconventional temple and Buddhism and Hinduism, all in white. This grand palace has become known as "La Sagrada Familia" of Thailand, due to its unusual facade and loaded, and because its construction began in 1997 and is still not over.
Chalermchai Kositpipat, architect and defender of traditional Thai art, designed this white temple, whose style is a mixture of elements from Hindu mythology and Buddhism, as well as the popular culture of the world. As planned, the Rong Khun will have nine buildings at the end of its construction and aims to be an unmissable stopover in Thailand's tourism.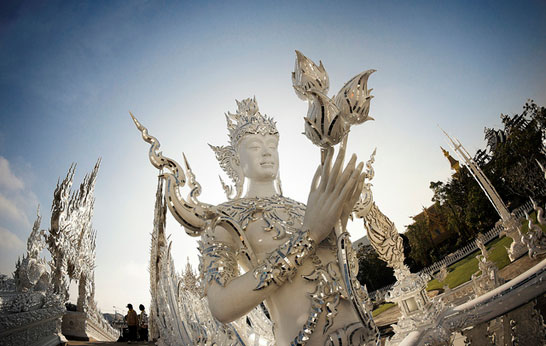 Similarly, the interiors of the temple are of great importance, as they highlight designs made with crystals, which simulate the wisdom of Buddha. The entrance to the building is free and if you're lucky, the eccentric architect and designer Kositpipat can be close to give autographs and pictures.
At the entrance of the temple, two mythological beings are guarding the arrival of visitors. To access the stunning interiors, it is necessary to cross a small bridge over an artificial lake, where fish are also white. The Meeting Room is the main room of this beautiful palace and is decorated with drawings and sculptures bathed in gold. Other rooms represent elements of nature such as water, wind, and fire.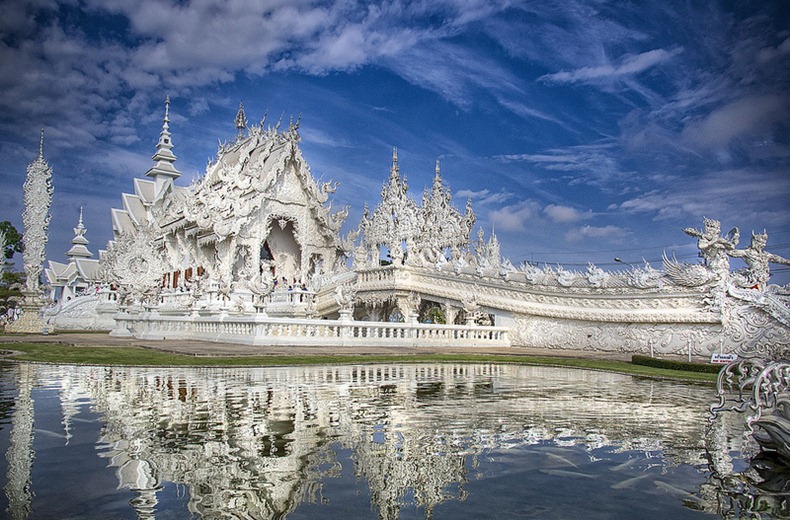 Among some of the buildings around the main temple there is a metallic forest, which lives thanks to donations from visitors who acquire silver hearts and hang them on the branches is built. Do not miss the opportunity to leave your mark on this incredible building worth visiting during your trip through Thailand.